Qmobile 4G Plus Hang Logo Done 1 Clik Avenger Dongle . . . . .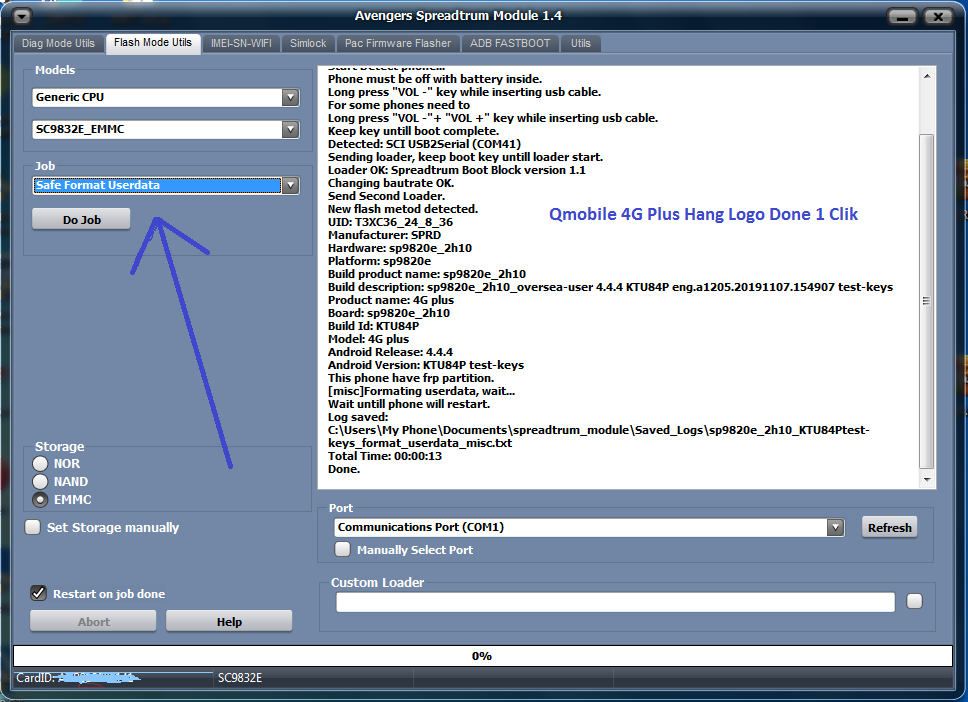 EXE: Avengers Spreadtrum Module 1.4
SELECTED: SC9832E_EMMC
ACTION: Format Userdata(misc)
Start Detect phone…
Phone must be off with battery inside.
Long press "VOL -" key while inserting usb cable.
For some phones need to
Long press "VOL -"+ "VOL +" key while inserting usb cable.
Keep key untill boot complete.
Detected: SCI USB2Serial (COM41)
Sending loader, keep boot key untill loader start.
Loader OK: Spreadtrum Boot Block version 1.1
Changing bautrate OK.
Send Second Loader.
New flash metod detected.
UID: T3XC36_24_8_36
Manufacturer: SPRD
Hardware: sp9820e_2h10
Platform: sp9820e
Build product name: sp9820e_2h10
Build description: sp9820e_2h10_oversea-user 4.4.4 KTU84P eng.a1205.20191107.154907 test-keys
Product name: 4G plus
Board: sp9820e_2h10
Build Id: KTU84P
Model: 4G plus
Android Release: 4.4.4
Android Version: KTU84P test-keys
This phone have frp partition.
[misc]Formating userdata, wait…
Wait untill phone will restart.
Log saved:
C:UsersMy PhoneDocumentsspreadtrum_moduleSaved_Logssp982 0e_2h10_KTU84Ptest-keys_format_userdata_misc.txt
Total Time: 00:00:13
Done.
Br
Zaheer123e